Dr. Eric Vandenhouten
Clinical Practice & Online Appointments
Dr. Eric Vandenhouten
The WaoMirc (WISCONSIN ACUPUNCTURE & ORIENTAL MEDICINE INTEGRATIVE RESEARCH CONSORTIUM) clinic is an academic acupuncture and Oriental medicine research clinical practice based in Green Bay, WI USA within the Military Avenue Business District.
The WaoMirc clinic's open treatment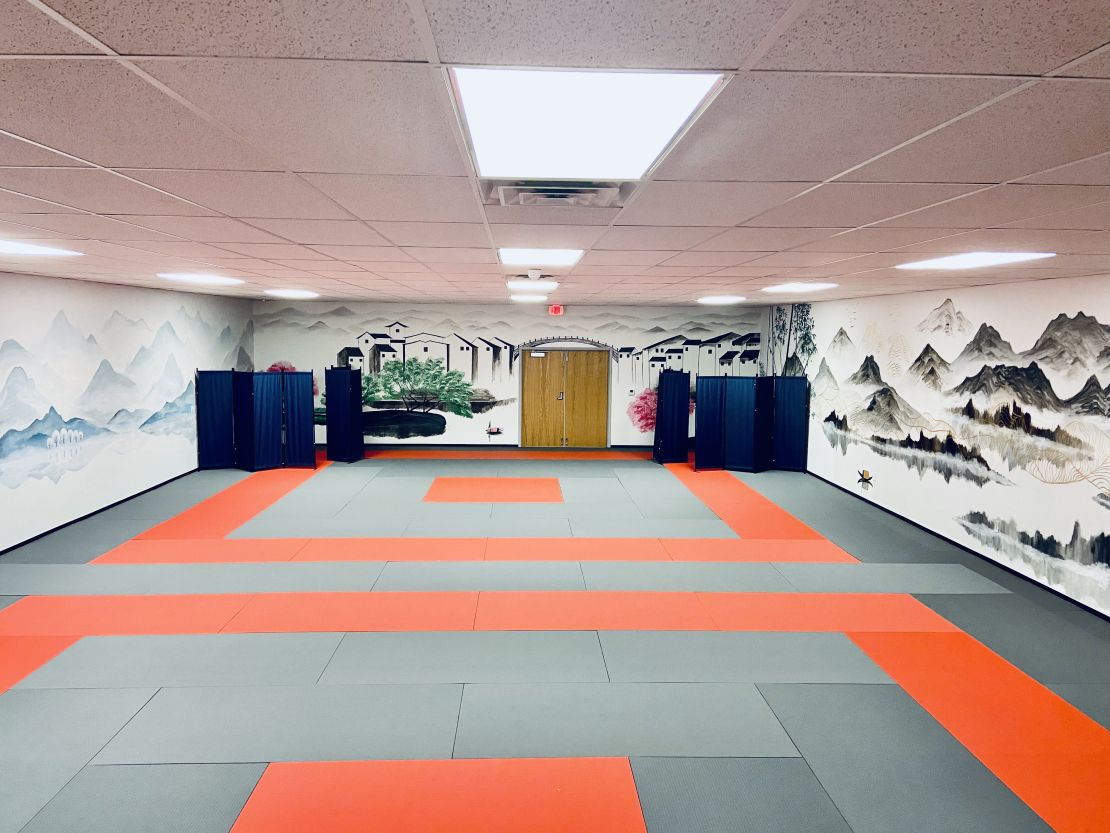 room is ≈2,000 ft² and of classical oriental medicine design which is a semi private treatment setting. In the open treatment room patients ley down on Japanese style tatami (2" Olympic Judo Caliber Mats) and are treated in an area divided behind binders alongside other patients who are also in their own areas divided behind binders similar to a modern day physical therapy treatment room. It is reccomended to wear loss fiting clothes to your appointment due to acupoints being located throughout the body.
The WaoMirc clinic is taking new patients including cash based uninsured patients (self-pay) or patients who have a health insurance plan that has no acupunture benefits (self-pay), and Out-of-network Insurance patients. All fees associated with the patient visit are due in full payment at time of service regardless if the patient is a cash based payer (self-pay) or Out-of-network insurance based payer.
Acceptable forms of payment are most major credit cards types and local checks. We Also accept special health care account for payment. These are just some types of accounts may be used for payment a flexible spending accounts (FSA), health savings accounts (HSA), Health reimbursement arrangements (HRAs), and healthcare debit/credit cards ext. Patients are highly recommended verify these special use healthcare payment type account plans for use for acupuncture care visits, access to current funds along with any coverage or other restrictions, and current account balances prior to visit.
For Out-of-network Insurance based patients who have a health insurance plan with acupuncture benefits it is highly recommended that you the patient contact your insurance provider prior to your visit to verify your most current Out-of-network benefits and related information as plans frequently change. As a profeesional courtesy for Out-of-network insurance payer based patients the WaoMirc clinic can summit a claim on the patients behalf or provide a Superbill for the patient to summit to their own insurance provider for reimbursement of their visit bills. WaoMirc clinic cannot guarantee that the patients Out-of-network insurance plan will pay a reimbursement for any patient visits for any treatment services rendered, therefor the payment bill for the visit is ultimately the responsiblity of the patient. Meaning that seeking reimbursement for any billed service visits is done by the patient themself to their own Out-of-network Insurance provider sumitting claims on a patients behalf or provide a Superbill to the patient is only a profeesional courtesy and does not grauntee any reimbursement outcomes.
Here is some Basic questions for your health insurance provider regarding acupunture benfits:
Do you have out-of-network coverage?
Does your coverage have any exclusions or limitations?
Do you have an annual deductible first or is acupuncture exempted from annual deductible?
Do you have an annual visit limit if so what is the process to request additonal visits?
On behalf of WaoMirc clinic we would like to thank all the brave men and women of the USA uniformed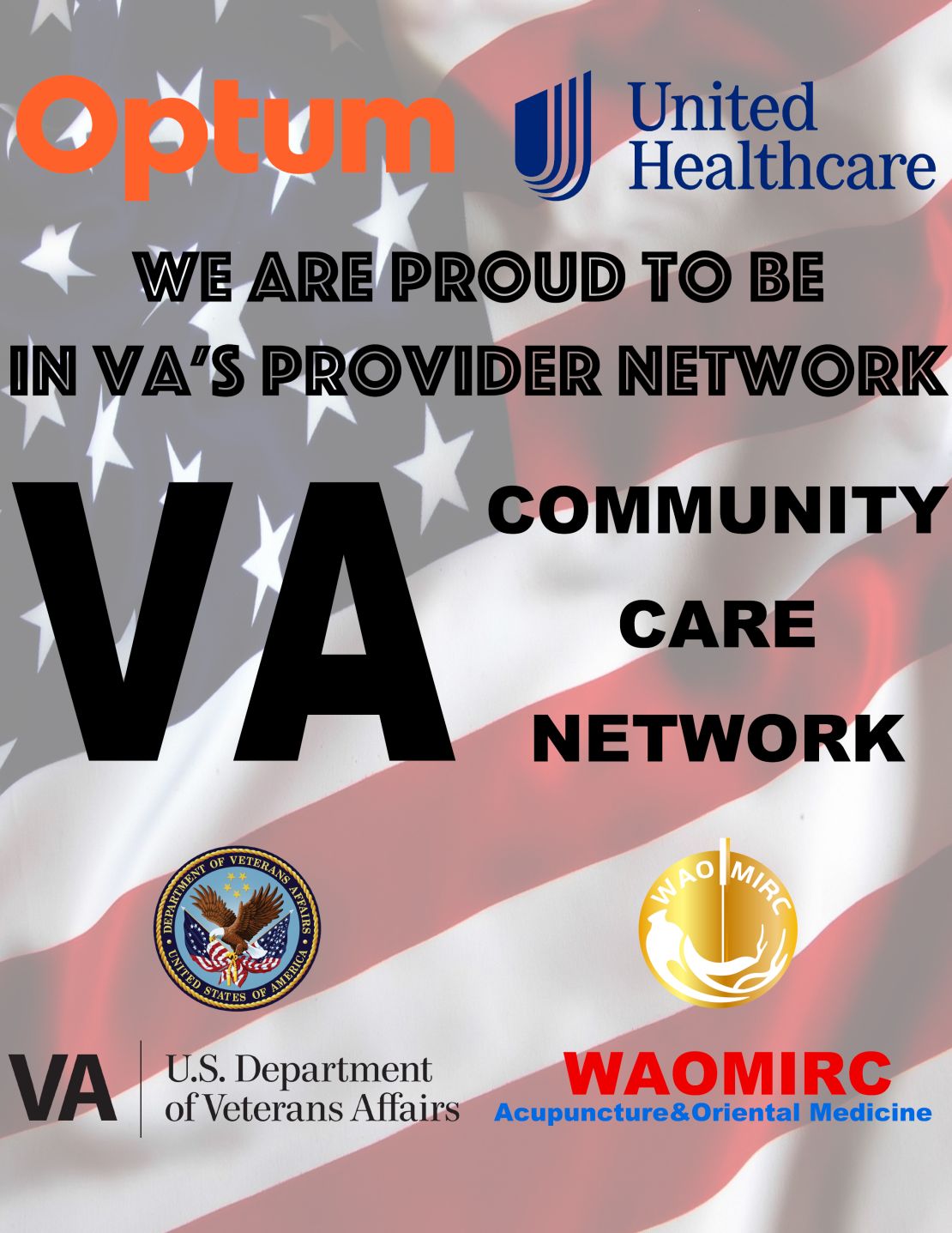 services for their military service. WaoMirc clinic's Dr. Eric Vandenhouten is honored to be an In-Network provider with VA's Veterans Affairs Community Care Network (VA CCN) administered by OptumHealth Care Solutions, Inc. a subsidiary of UnitedHealth Group to ensure Veterans receive the excellent AOM care they deserve from our clinic. Veterans need to consult their local VA medical facility for acupuncture treatment referral details.
--------------------------------------------------------------------------------------------
In order to book appointments online please fill out the following information into the "Your Contact Information" at the bottom of this page of our website and push send message.
The information we are requesting is the minimum required data in order for any patient to get enrolled with our online patient EHR and appointment book platform patient ally.
--------------------------------------------------------------------------------------------
*Just an example template for minimum required data to be filled into the "Your Contact Information" please use our own real data.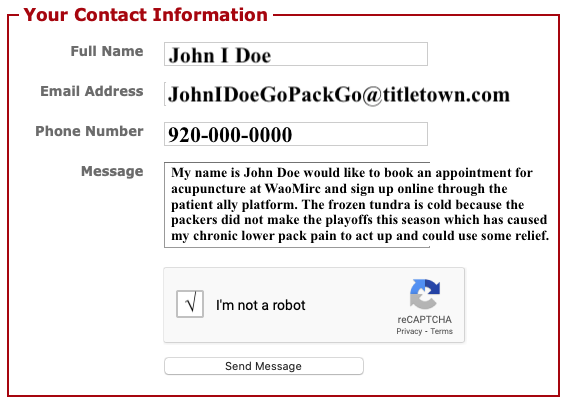 Full Name:
John I Doe (Please Included middle initial)
Email Address:
JohnIDoeGoPackGo@titletown.com (Check spam folder if you cannot find the patient ally invite email and make sure inbox is not full)
Phone Number:
920-000-0000 (Must be a text receiving phone number)
Message: (Date of Birth DOB)
My name is John Doe DOB: 11/23/1960 and would like to book an appointment for acupuncture at WaoMirc and sign up online through the patient ally platform. The frozen tundra is cold because the packers did not make the playoffs this season which has caused my chronic lower pack pain to act up and could use some relief.
Health Insurance Info: (Please proved the following information below in your message if you plan on paying with your plans benfits)
Member ID # XXXXXXX
Group # XXX
Payer ID # XXXXX
Plan Name: XXXXXXXXXXXXXXX
Plan Type: XXX
---------------------------------------------------------------------------------------------
It is recommend to double check your information in the "Your Contact Information" message to make sure it matches your insurance before sending. Once finished click "send message" and await for a reply, response times will very.
Once the message is sent the WaoMirc clinic staff we use the data in the message in patient ally to send an email to the patients email account provided in the "Your Contact Information" message sent.
The email from patient ally you will receive will have the subject line "Enroll for Access to your Office Ally Training Support Specialist Patient Portal". Follow the prompts for enrollment Patient Ally will need to verify your phone number, email, please make sure that your address is the same as your health insurance profile.
--------------------------------------------------------------------------------------------
All other inquires and concerns will be addressed when a new patients or established patients arrives to the WaoMirc clinic in person.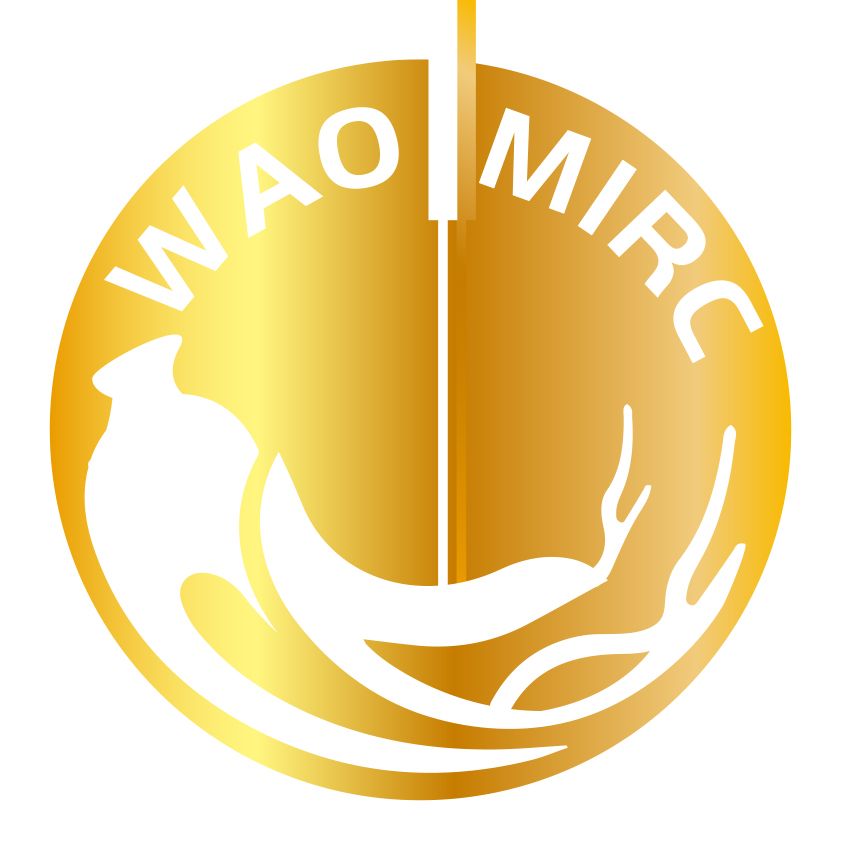 (920) 554-4022 office
521 S MILITARY AVE
STE A
GREEN BAY , WI 54303-2209